Restorative Health
Establishment and health at 12 William Street West, Smiths Falls, ON K7A 1M9, Canada. Please contact Restorative Health using information below: address, phone, fax, email, opening hours, customer reviews, photos, directions and more.
Opening hours
Monday
12:45pm — 05:45pm

Tuesday
02:00pm — 06:00pm

Wednesday
07:30am — 12:00pm

Thursday
07:30am — 12:00pm
01:30pm — 04:30pm

Friday
02:00pm — 05:45pm

X
Photos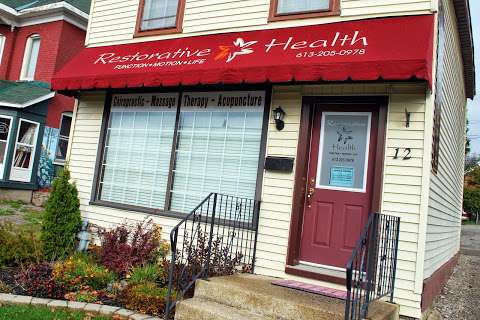 Reviews of Restorative Health
Jane Campbell Added 2018-11-07

★ ★ ★ ★ ★

Excellent chiropractic care and wonderful staff. My body has improved steadily - and now my appointments are further apart. Huge thank you to Dr. Robert Rodine.

Sue Thompson Added 2018-09-18

★ ★ ★ ★ ★

I am a changed woman because of Dr. Rob Rodine who has given me my life back, I can't thank him enough. Also have to mention a big thank you to his BEAUTIFUL receptionist Kate who was always more then helpful and a caring soul. Great place to get 100% well. Thank You again guys ;)

laura mantle Added 2018-09-04

★ ★ ★ ★ ★

I can't say enough about Dr. Robert Rodine. On numerous occasions he has put me back together.(as per say) I find him to be caring and Knowledgeable and listens well. He never treats me like a number or rushes me out the door. He always know exactly what to do at the time of my discomfort and I am amaze how good I feel when I have left his office . Rob knows what is best for me and will remind me and guide me with proper body mechanics as well. Seeing this chiropractor is the best decision I have made for myself as a PSW. I have recommended Dr. Robert Rodine to many of my friends and family and will continue to do so in the future. Also his secretary Kate is very efficient and pleasant.

Laura-Anne Mantle

Ron Hughes Added 2018-09-04

★ ★ ★ ★ ★

Since I started attending Dr. Rodine's clinic I have been very satisfied with the care I have received. The office is always very clean and welcoming and I'm always greeted with a smile and a hello from the receptionist. Dr. Rodine is very professional and he always makes me feel like my situation is very important to him. I would greatly recommend this clinic to anyone needing chiropractic care.

Brenda Reinkeluers Added 2018-08-09

★ ★ ★ ★ ★

Truly appreciated my first and subsequent visits to this clinic. From being welcomed at the front desk by a smiling and helpful Kate to receiving professional, gentle and kind care by Dr. Rodine, the experience has been wonderful. Would highly recommend this clinic to anyone.